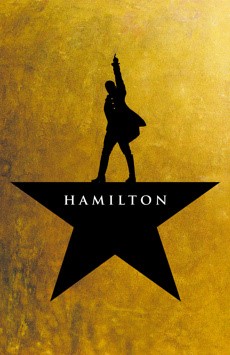 "HAMILTON" Ottawa NAC
*NEW DATE* Sunday July 24, 2022
$349.00 Per Person (HST Included $39.23 )
Winner of 11 Tony Awards and the 2016 Pulitzer Prize for Drama, Hamilton is one of Broadway's biggest hits. From the mind of 2015 MacArthur Genius grant recipient Lin-Manuel Miranda and Ron Chernow's landmark bestselling biography comes a new musical about the scrappy young immigrant who forever changed America, Alexander Hamilton. Tony Award-winner Thomas Kail directs this new musical about taking your shot, speaking your mind, and turning the world upside down.  From bastard orphan to Washington's right-hand man, rebel to war hero, loving husband caught in the country's first sex scandal to Treasury head who made an untrusting world believe in the American economy, Hamilton is an exploration of a political mastermind. George Washington, Thomas Jefferson, Eliza Hamilton, and lifelong Hamilton friend and foe, Aaron Burr, all attend this revolutionary tale of America's fiery past told through the sounds of the ever-changing nation.
Includes: Return Transportation to/from Ottawa NAC,  & Orchestra floor seating for the performance
"KOOZA" Cirque du Soleil
Old Port of Montreal – Under the Big Top
Thursday June 9, 2022 (waitlisted)
** Newly Added ** Thursday June 16, 2022 
$225.00 Per Person (HST Included $14.32 )
A Traditional Circus Homage
A return to Cirque du Soleil's' origins, KOOZA combines acrobatic performance and the art of clowning, while exploring fear, identity, recognition and power. The Innocent's journey brings him into contact with comic characters from an electrifying world full of surprises, thrills, audacity, and total involvement.
* Note, from the drop off location at the pier to the big top there is a little walk that there is no offered transportation for (approx. 400 feet). Additionally, the big top seating is elevated and there are stairs required to access your seat.
Includes: Return Transportation to/from the Old Port of Montreal, Dinner prior to the performance, & Reserved seating for the performance
"LAURENTIAN FALL FOLIAGE"
Wednesday, Sept 28, 2022
$189.00 Per Person (GST Included $15.28 )
The Laurentians are one of the most picturesque places to be during the fall. Enjoy a scrumptious lunch at The Grand Lodge followed by a trip up the enclosed gondola in the village of Tremblant giving you exceptional views. Do not forget your camera today!
Includes: Return Transportation, Lunch at Le Grand Lodge, & Gondola Mont Tremblant.
"JERSEY BOYS" 1000 Isl. Playhouse
The Story of Frankie Valli & The Four Seasons
Wednesday, Oct 12, 2022
$169.00 Per Person (HST Included $13.43 )
They were just four guys from Jersey, until they sang their very first note. As they rise to stardom, these life-long friends celebrate the highs and endure the lows that go hand-in-hand with fame. Go behind the music and inside the story of Frankie Valli and The Four Seasons in this Tony Award®-winning true-life musical.
Includes: Return Transportation to/from the Playhouse, Lunch prior to the performance, & Reserved seating for the performance